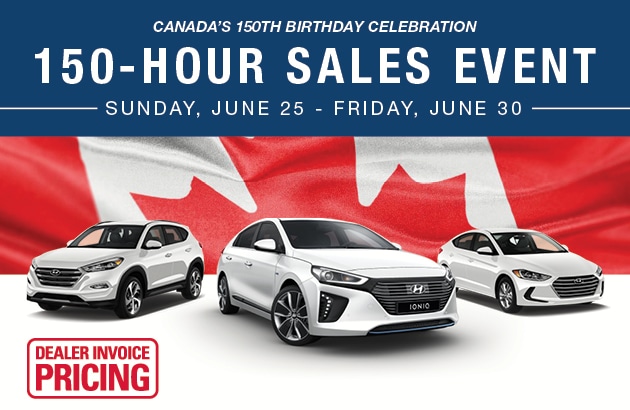 Join us in celebrating Canada's 150th birthday.
We invite you to join the celebration of Canada's 150
th
 birthday with 
exclusive event pricing
on all our in-stock Hyundai vehicles for 
150 hours only
!
DATES:   Sunday, June 25 - Friday, June 30, 2017
SPECIAL EVENT OFFERS:*


•
Dealer invoice pricing
on new Hyundai models
•
Lease rates as low as
0%
on select models
•
Finance rates starting from just
0%
on select models
•
Savings up to
$5,000
on select models
•
Additional
special event pricing
on all in-stock new and used vehicles
•
Above market trade value
for all trade-in vehicles towards any new Hyundai
Join us for the launch of the Hyundai IONIQ.
Forget everything you ever thought about hybrid and electric cars. 
The all-new IONIQ is the world's first vehicle to be powered by a choice 
of three different electrified powertrain options in a single model: hybrid, 
electric and electric plus. Learn more and come by to see the IONIQ 
for yourself.
For more information or to book a sales appointment, contact us at 
(604) 552-1700
or
sales@jphyundaicoquitlam.com
.
Regular prices will resume immediately after, so make sure you come in! 
It's the best time to get yourself into a brand new vehicle.
*Some restrictions may apply. Offers valid on June 25-30, 2017 only. See Jim Pattison Hyundai Coquitlam for complete details.